The plan
:
Jen
and Mook (her Thai exchange daughter) and Nan were going to come down to my house and from here we would zip off to Oak Lawn for a quick bite at Millie's before we headed to the Hilton to see the
Yarn Harlot
(sponsored by
Nana's Knitting Shop
).
Lesley
said she'd try to save us some seats.
What actually happened
:
Jen and Mook came and played with M while I got ready. Nan came, I finished getting ready and packed the car. We left a little before 4pm. It was a little later than I hoped, but trying to sew on the ribbon of the sweater for M took longer than I had hoped... I didn't end up using the silk ribbon because it was not strong enough. I used a pink ribbon I had, but I'm going to try to find a blue ribbon later this week.
Once we got going, traffic wasn't too bad, surprising for a Friday late afternoon. The only time it was bad was trying to exit the Tri-State at 95th St. We got to
Millie's
(I don't remember exactly when) to get some dinner. Jen met someone she recognized who told us the Harlot would be late. I, of course, forgot my camera in the car, so I missed getting some cute pictures of Jen and Mook and Nan holding M. Dinner was really yummy (they make their own bread) and the apple cobbler I had for dessert was even better. It was a good thing the Harlot was running late, though, because while the service was friendly, it was not fast and we didn't make it to the Hilton until around 6:45pm.
When we got t
o the Grand Ballroom, Lesley and her group had saved us some seats, but I didn't give her an accurate count, so they pulled a couple chairs up to the side for us. I spread out a quilt my mom made for M and let her roll around.
We weren't there more than 15 minutes or so when Tricia got up to let us know that due to the craptastic weather, Stephanie was still in Toronto and wouldn't make it. We were disappointed, but were having and had had fun. Someone shouted out "Ca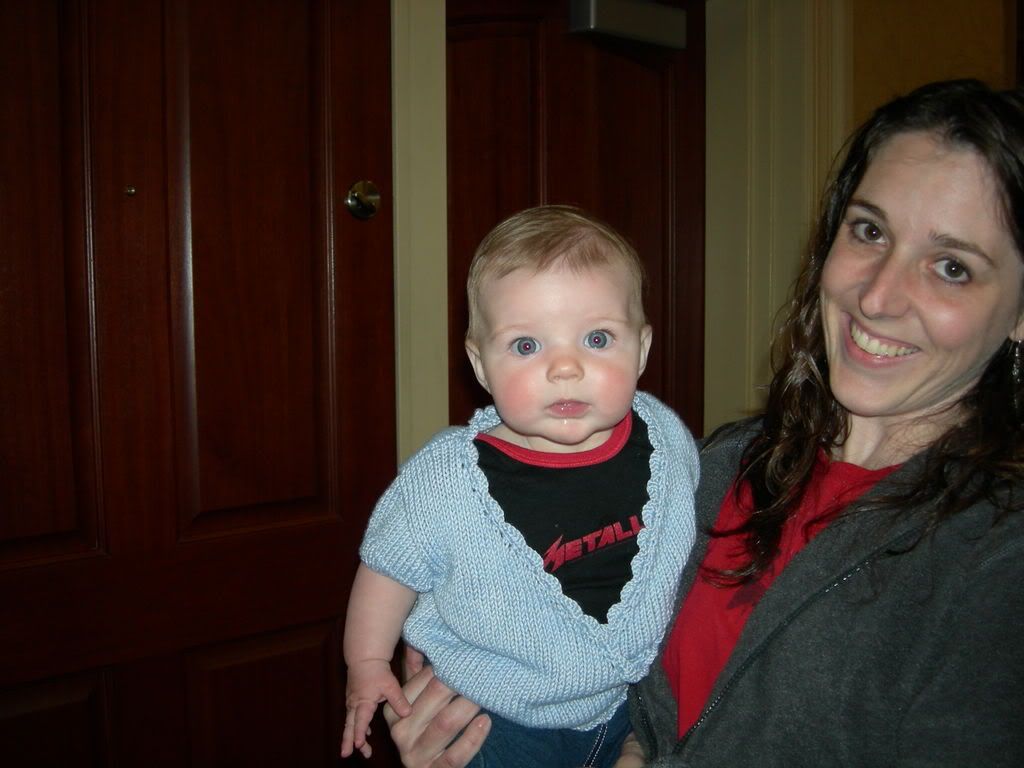 n we stay here?" Tricia said, sure since they had the place until 11. M got some cuddles from Lesley and then I nursed her b
ecause she wasn't going to last until we got home. She then got some cuddles from
Jesse
, who has an adorable boy of her own. She was having fun checking herself out in the mirror. And as you can see, the sweater is a little big on her, which it should be, considering I made the 1-2 year size. Underneath the soft girly blue sweater is the heart of a rocker, she wore her Metallica onesie.
I took her over to see Corey (Tricia's daughter) to show her the sweater, and she got even more cuddles and mirror time.
The heavens opened up while we drove home, but everyone made it ok. I hope she reschedules because I had a great time and would love to do it again.
On the right you see spinning. I moved Peggy up from the basement so I would get more spinning done, and although the picture on the right is from last year, it's the same thing I'm spinning now. When there is progress that is visible I will show you.