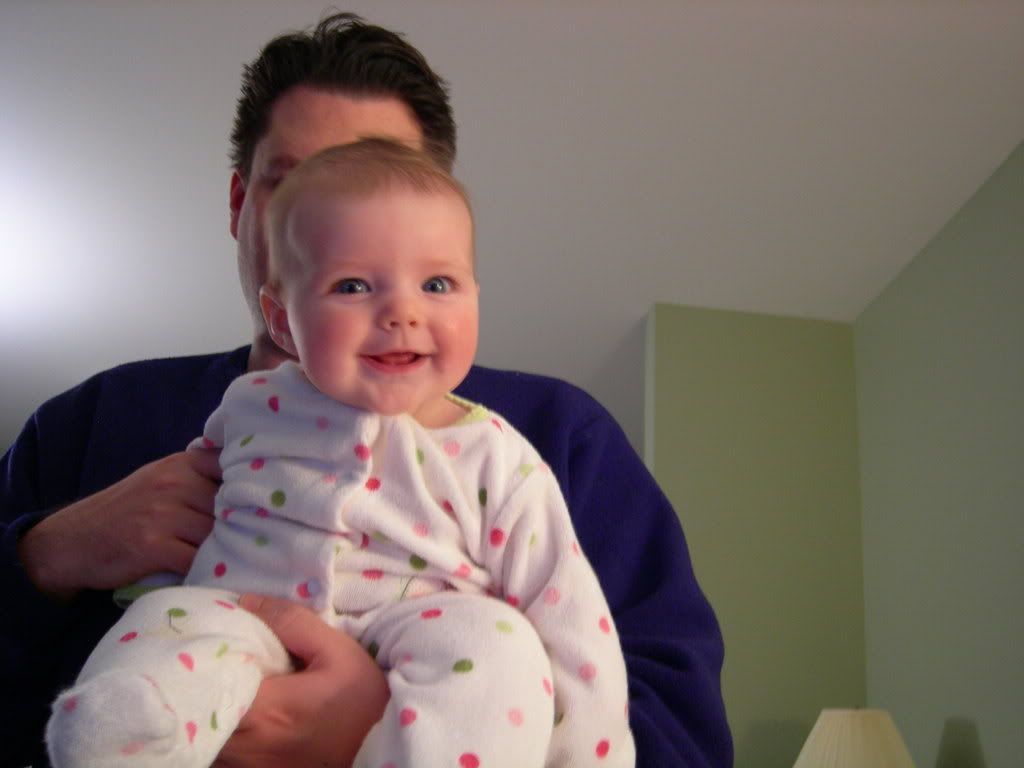 I realize I haven't posted much these past couple of weeks, but it's not been because nothing has been happening. M and I have been quite busy, actually. A week ago Tuesday,
Jen
came down to visit, and we drove out to
Nana's Knitting Shop
to pick up our Harlot books and our
tickets
for her talk April 25th. Nana's is a nice little store with a good selection of quality yarns. Included in the yarns is a good selection of colors of Cascade 220, which Jen and I agree is a wonderful, versatile yarn workhorse. After driving back from Oak Lawn, we went to lunch at Blueberry Hill Pancake House near my house, and had some yummy breakfast. I love me some pancakes anytime of the day or night. M sat with us in her bumbo seat quite nicely, until she didn't, and then one of us held her. Considering how long she was in her car seat, I'm surprized she wasn't screaming to get out.
Then, we missed blogless Carla's birthday celebration at Wool and Co. beca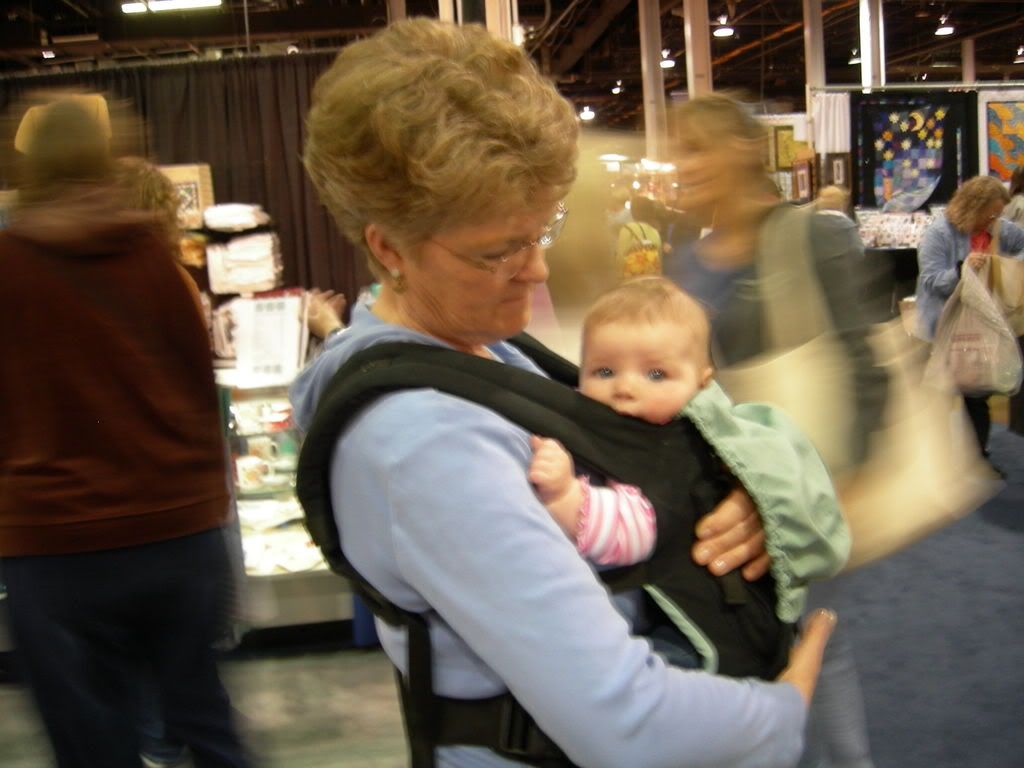 use my mom came into town! We picked her up at the airport, then went directly to the
IQA
's quilt show at the Rosemont Convention Center. Two years ago my mom came out for it and we were overwhelmed and unprepared for the vastness, so this year we planned for two days. M came with us and was proclaimed by many to be adorable, and we were told that it was good to start her quilting early. She was amazingly good, but about midway through the second day, she was annoyed, so I went to the edge of the vendors, and while my mom checked out a quilting machine, I spread a blanket on the floor and let M roll around a bit. The carrier is great, but after a while, she wants to move around. Can't say I blame her. I saw a couple people with strollers, but it would have been hell trying to see the vendors with it; the vendors are packed in there pretty tight. On Saturday, I actually saw someone I knew -- or rather, someone I knew saw me!
Emily
was there checking things out (go check out her periwinkle sweater, it's gorgeous) and happened to see me. If you go to her blog, on the right is a link to her quilts, she's amazing. It was great to have my mom out, even if only for a long weekend. If only the weather the whole weekend was as nice as Monday (and Tuesday and today).
So, knitting? you a
sk. Well, I've been knitting a bit. My mom's birthday was the Monday before she came, so when she got here I gave her a pair of Irish Hiking Wrist Warmers made from Dream in Color Classy. They are great when she's at work and it's just a little chilly. And the yarn is nice and soft, but not get-in-your-nose fuzzy. And I started a new sweater for M. When I saw the pattern I couldn't resist. It's in Sirdar's
Little Sweet Peas
pattern booklet. I love the whole booklet and can't wait to make more from it. I'm using the
ir Baby Bamboo in Sleepy Blue to match M's eyes. I really love the yarn, it is drapey and soft with a lovely sheen. It can be a little splitty, but I've seen much worse. The picture lies, because I have finished the back and left front and am almost done with the right front. Then the short sleeves and the edging, then I'm done. Although M just turned 5 months yesterday, I'm making the 1-2 year size so she can wear it a while. My plan was to have her wear it for her first Harlot trip, I hope it's not too too big. I've made a bit of progress on Na Craga, but I need to step it up.
Oh, if you want to see a silly picture of M (and a cute one) go
here
, to Wool and Co's blog. And I leave you with three generations of artsy craftsy women.