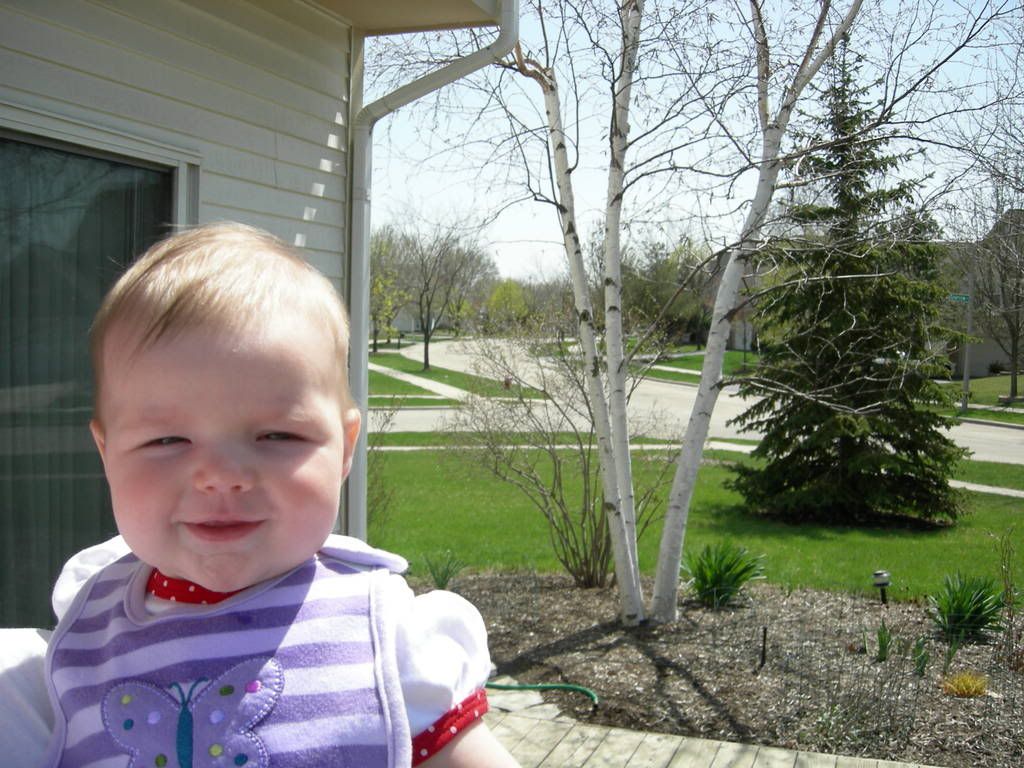 M will now lead us on a tour of some of the yard. Now, mind you, most of this came "pre-installed". Oh, and that rain that was supposed to come? Didn't. Maybe it went on down to Sue instead (I hope)? I tried to send the sunshine to Sharon... did that work?
This is a lilac that took the place of one of the wicked roses. I can't remember what kind it is; I didn't realize there were so many types of lilac. I think it will be purple.
These next two are rhododendrons, one will have purple-y-pink flowers, and the other will (I think) have hot pink flowers. They took the place of the rest of the roses, which I dug out all by myself. Yup, I am pretty proud. Makes me feel all homeowner-y. As you can see, I need to get more mulch, but that's the easy part.
One reason I chose rhododendrons is that they are evergreens, so when everything else is brown and leafless, there will still be a bit of green. Also, they are fast growers, and a little privacy around the deck will be nice. Oh, and the flowers are pretty, too.
This is that raft of dwarf iris that had two blossoms on Sunday! It just went mad and I love it! So vibrant. There are a few of these scattered elsewhere in the yard, such a treat. I don't know what the flowers are behind them, but they are pretty and delicate.
Just next to the dwarf iris is this tulip that somehow escaped the rabbits. Looks to be red, can't wait to see!
On the south side of the house I have this hot pink azalea ready to plant, just as soon as the tree that should have been a shrub is out. It's getting there, just have to get M to agree to hang outside and watch me dig and cut roots.
These tulips have decided to give us multiple blooms. Why these and not the others? Don't know. Why haven't the bunnies eaten them? Don't know that, either.
And, while this isn't the garden, it is very evocative of spring. I love the short sleeves on it. I'm working on sewing the sides now. Went to Joann's this morning and picked up some snaps to sew on (the inside "flap" gets snapped instead of buttoned). I promise not to post another picture until I have it on M.