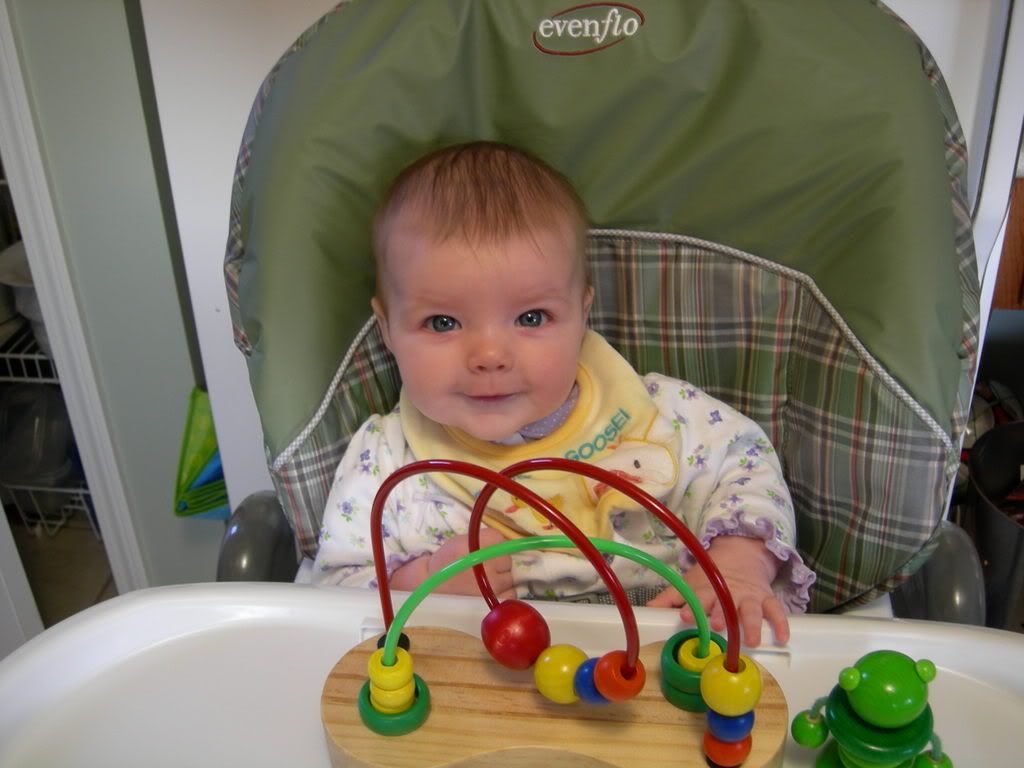 This was a big weekend for Miss M. She got a convertible car seat since she's now too big for her infant seat and she also got a high chair. No solid foods yet (we're waiting until 6 mo.), but this way she can hang with me in the kitchen and see what's going on up higher. We got the
bead and wire maze
from a shop through Amazon and she really likes it. It has four suction cups on the bottom of it that really work (I've read reviews of toys with one suction cup that say the toy is great but the suction cup, not so much), so she can play with it without pushing it off the tray. She really likes playing with the beads. The other toy is a
Haba
frog that we got from
Assembly Line Toys
in Geneva. It is a really cool store, and they are going to expand the line of Haba toys they carry, which is cool, because I think I want them all... for M., of course. Two other Haba toys came today that we ordered though Amazon, as well. Pretty fun stuff, if you ask me.
I've finished up a secret project, can't show it yet, but soon. I've also made some progress on my dad's birthday sweater. Did I discuss this already? Modified drop shoulder and v-neck. And I am making a smaller size so it won't be so baggy. I hope it looks alright. If not, I'll rip it and start over. What's the point of a present if he won't wear it, right?
Got to go to knitting at
Wool and Co.
Friday. Fun as always.
When going out for walks with M., I bundle her according to the weather, but since I don't take her out in the str
oller when it's below freezing, I put a cotton hat on her so she doesn't get too hot. The hat I made to match the Harvey sweater is perfect for this, and she's grown enough that I don't have to fold the brim up. What we get is Brunhilda... our little champion German swimmer.