M. sends her Valentine wishes, as well. That's her posing with her first Valentine, a
Heart
from Jodee. She (Jodee, not the Bean) was making many of them last week at Friday Knitting. I really admired her perseverance, although they are really cute, so maybe I'd find it hard to stop, too. Plus, she says they are easy to do.
Since of course you could want nothing more than a parade of M. photos for Valentine's Day, here is a mult
itude of hats:
First up we have a hat from Monica and Polly. Polly k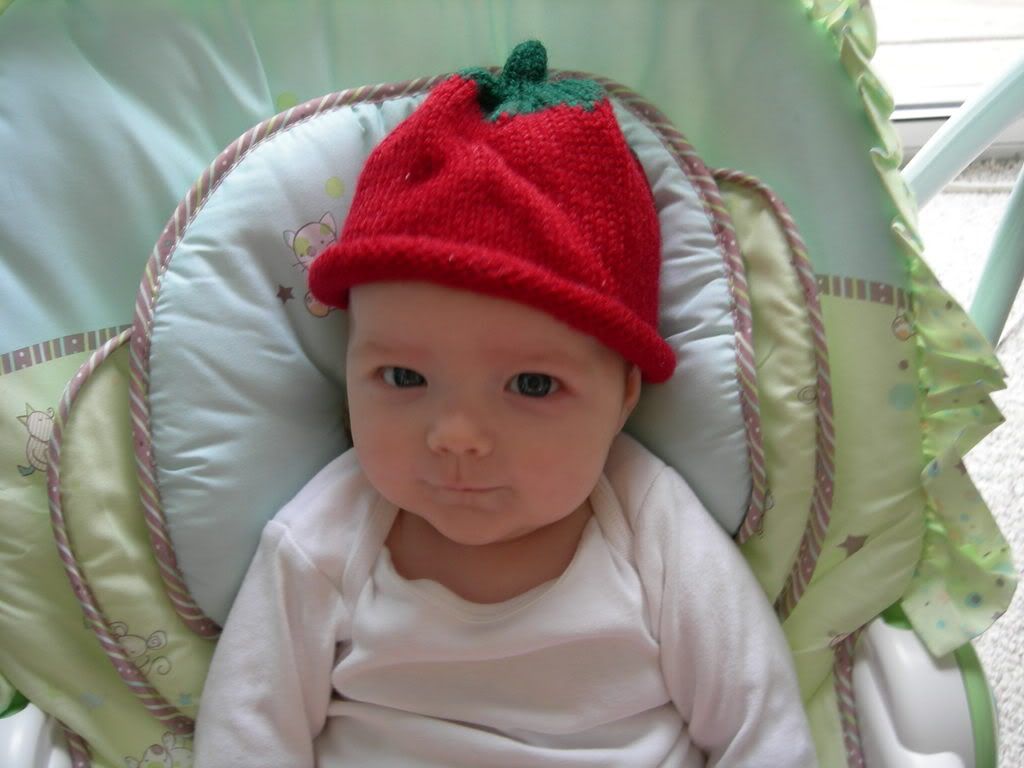 nitted it from sock yarn and the seed stitch really shows off the yarn. It is nice and soft and warm.
Next is a
tomato hat
that I made long, long ago, well before I was pregnant. It is one of the Ann Norling Fruit Hats made from
Cleckheaton's Country 8 Ply
. I really like that yarn, it's pretty soft and knits up nicely. I used to have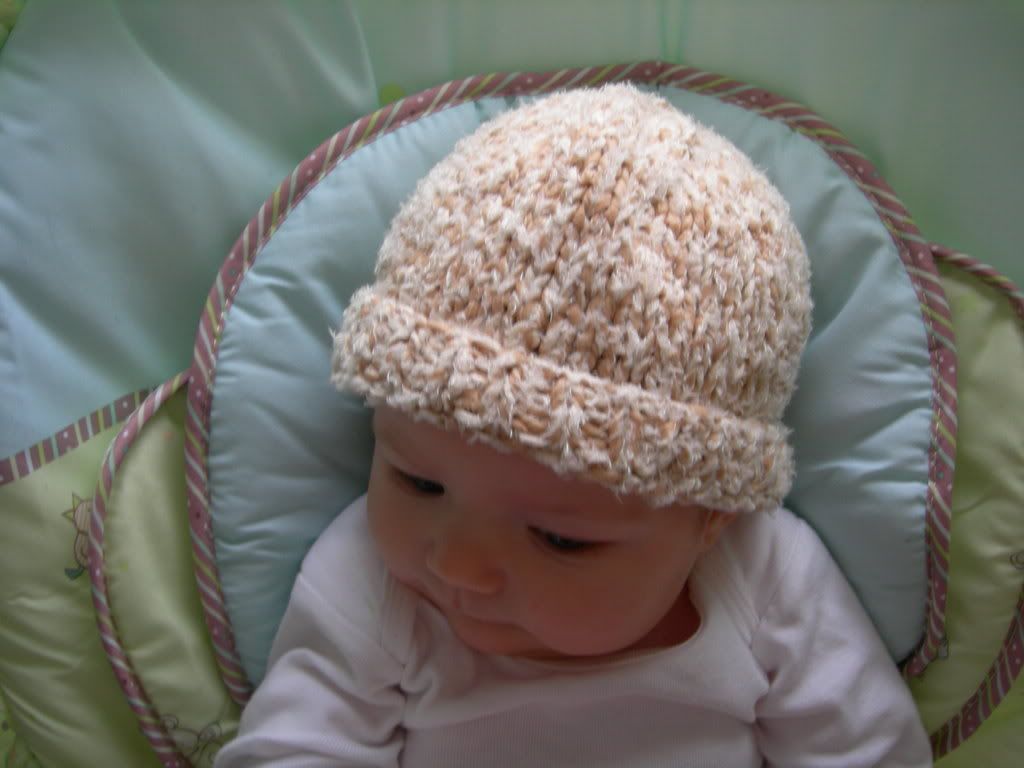 quite a bit of it.
Next up, we have another hat I made, this one just before M. was born. Made up the pattern out of Skacel's
Vacation
. It was a quick knit and I like the way it turned out.
And last, but certainly not least, we have a crazy Seussian hat by Julie. It's a
Dream in Color
yarn and is very soft. I love this hat and can't wait until it's not quite so big on her. I love the color combination and I want one of my own (although I would promise not to wear it at the same time M.'s wearing hers).
I am so close to being done with the
Baby Bobbi Bear
I'm making, however, I am no closer than I was Sunday evening when I ran out of yarn. Grrr. I had the 3 skeins the pattern said it would require, and yet, I still have left to do: the end of the second arm, the ears, and the duplicate stitching around the neck. So close, but even if I had left shorter tails at the end of skeins, I still wouldn't have quite enough. I'll pick up another skein at
Wool and Co.
tomorrow when I go for knitting. I'm sure I can convince someone to cuddle M. while I finish up the bear :)
In the meantime, I've been knitting a pair of booties... I used up a little sample skein of Mountain Color's
Twizzle
which I love, love, love and another yarn that was one of the first yarns I bought that wasn't box store acrylic, so of course, the label is long gone. What I find interesting ab
out the yarns is that they are constructed the same way, 4-ply with three plies the same color and 1 contrast color, but the unidentified yarn is both spun and plied quite loosely. I started by following a
pattern
, but made some modifications. I would have made the cuff longer but I got bored with the K1,P1 ribbing.
I hope all of you have a great day!