Saturday started early... like leaving the house at 6:30am early. I know that is not a time most people would consider leaving on a Saturday, and usually, I would agree, but this was a special occasion. The second annual Midwest Folk & Fiber Fair was the ultimate destination, and we all know, fiber is worth it.
So, we got up and left and got to
Jen
's just after 7am, picked up Jen and her lovely daughters and headed up to Nan's. At the house of Nan, we had some really yummy sticky buns made by her husband, met Carla and headed over to the fair around 9am.
Now, last year, the fair was held outside at a park. There were three big tents and one small tent with all the vendors. It opened on Friday morning. I guess there was stuff going on inside a park building, but I didn't go to that part. This year, it was held on McHenry County College campus, so it was only open Friday from 6-9pm because the school had classes during the day. This year the vendors were not in one location, but all over, from a gym, to the hallways, to an area outside. I preferred the feel and the set up of the previous year, I also liked being able to go during the day Friday. However, I did have a nice time with my friends... we got to eat lunch with
Dee
and Kimberly, and saw a lot of other friends, some of whom I met through Ravelry! And, the one bonus, this year they had alpacas, but I forgot my camera, so go to Dee's blog to see pictures. They sounded just like M when she babbles, and when she heard them "talking" she "talked" back!
But, what did I get? I'll tell you this upfront, I got no yarn.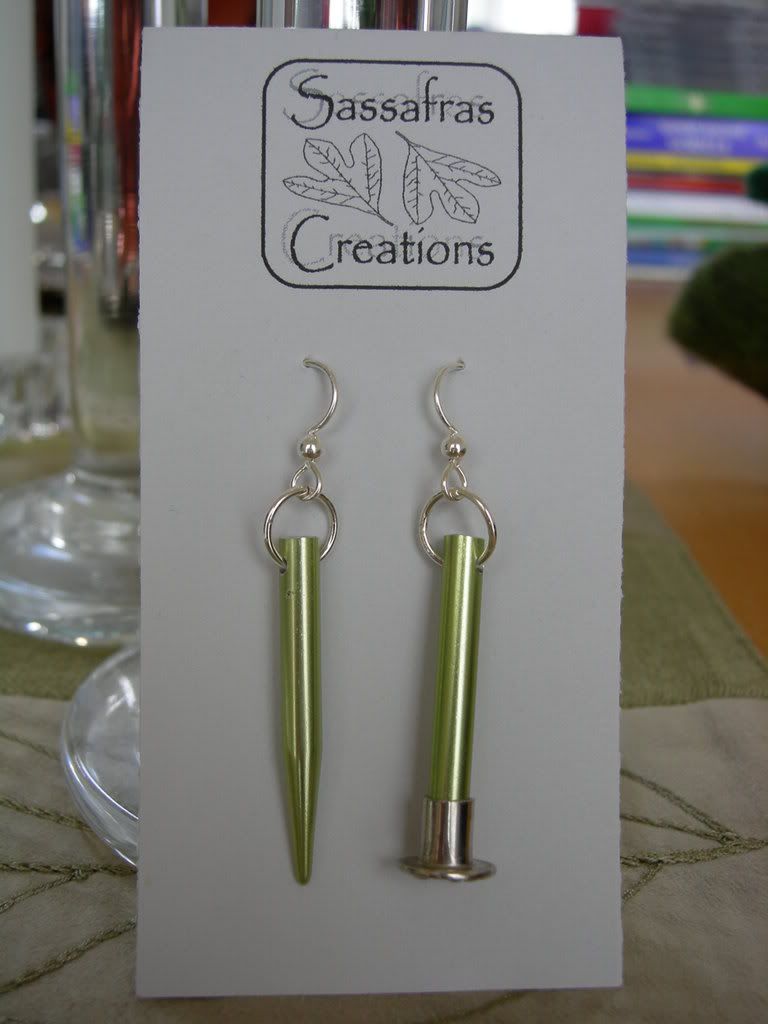 I went the fiber route and only got stuff to spin, and earrings. And I took pictures of that! On the right here we have the earring. The woman who made them is super nice, and she makes some really cool jewelry using old knitting needles. Nan got a lovely bracelet. You can find her on
Etsy here
. I figure I can wear these earrings in a year or two, whenever M stops playing with my ears.
In the same booth,
Gale Evans
of
Gale's Art
was selling her fiber. I got three 4oz ... skeins? bundles? whatever of her fiber. She had her normal colorways, and then potluck colors, which are dyed with the leftovers from the regulars. Up first, my two potluck grabs: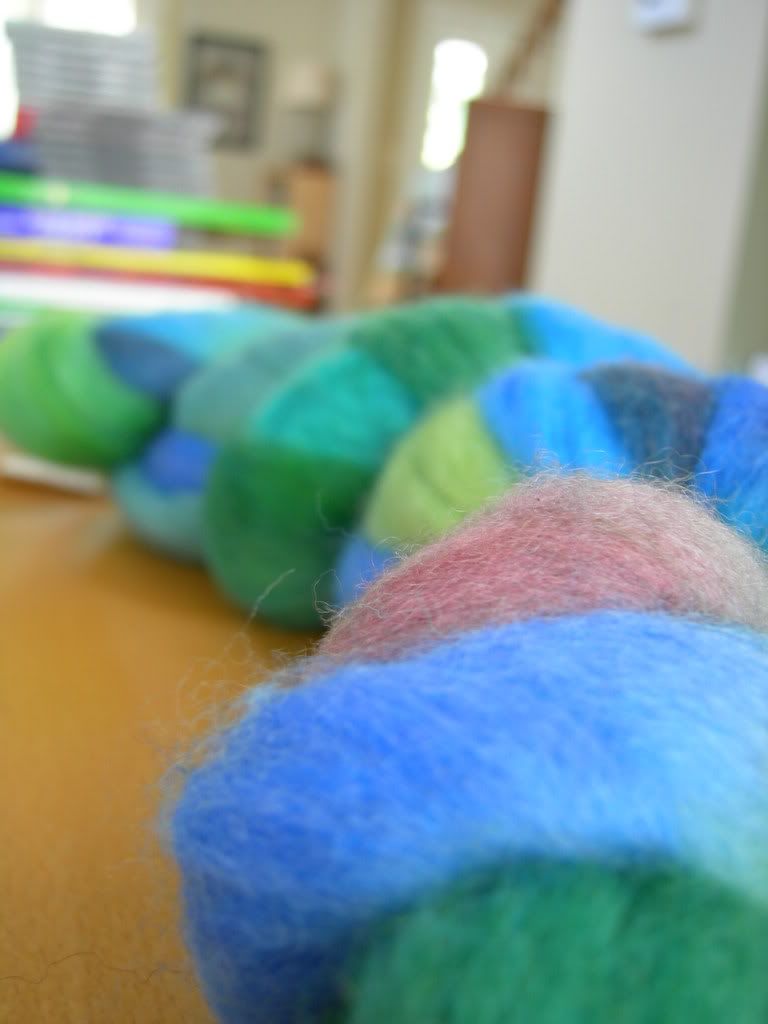 Both the potlucks are Corridale Cross rovings. I just think they are so pretty.
I also got this: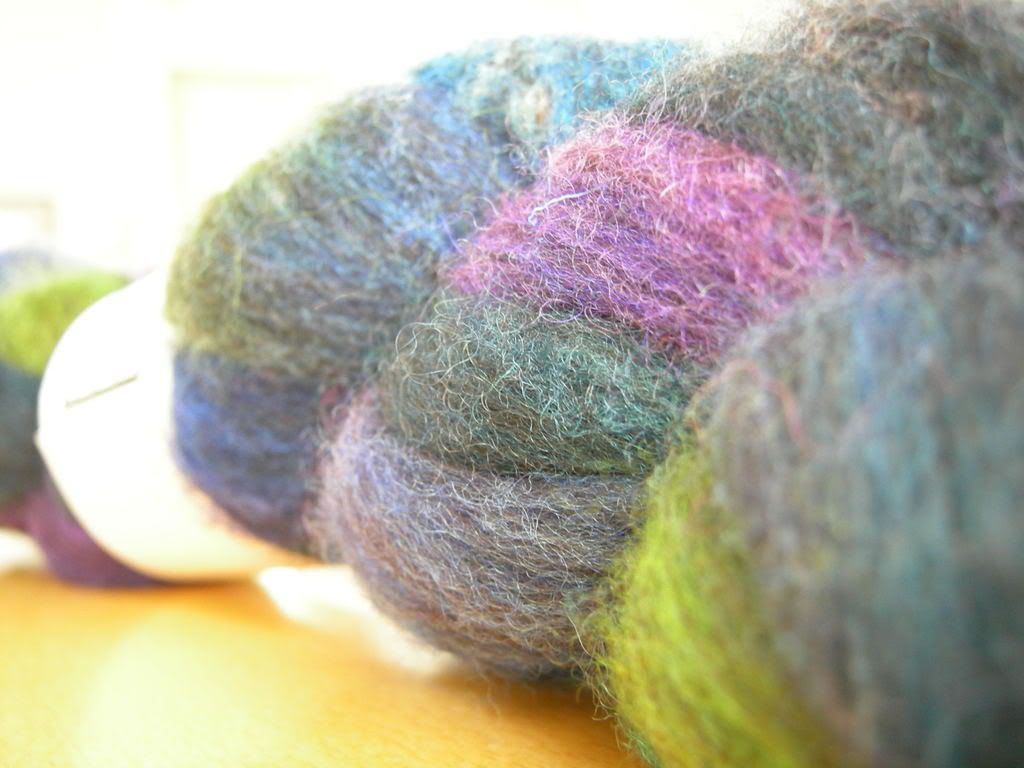 This is Black Bluefaced Leicester wool dyed in the Deep Blue Sea Colorway.
The colors just look so deep on black wool. Jen got the same colorway over white wool and it's a completely different look... much more like my second potluck "skein".
When we got to the fair, my plan was to look at everything first, then go back to buy my goodies after seeing it all... after all, I had a budget and was trying to be good. Here is what broke that plan: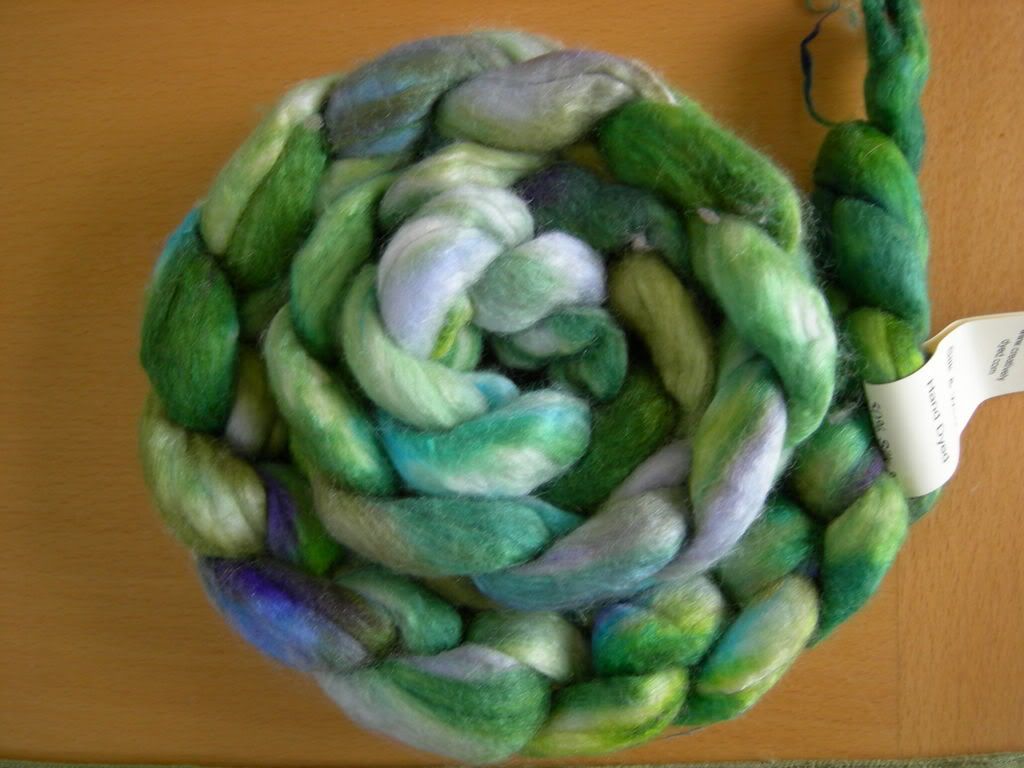 It is 4 oz of a 50/50 silk/wool blend by
Creatively Dyed Yarn
. The dyer is on Ravelry, but I can't remember her name or anything. I do remember she was really really nice and had lots of really pretty stuff. I just couldn't let anyone else get this while I was still checking out other things.
My last fiber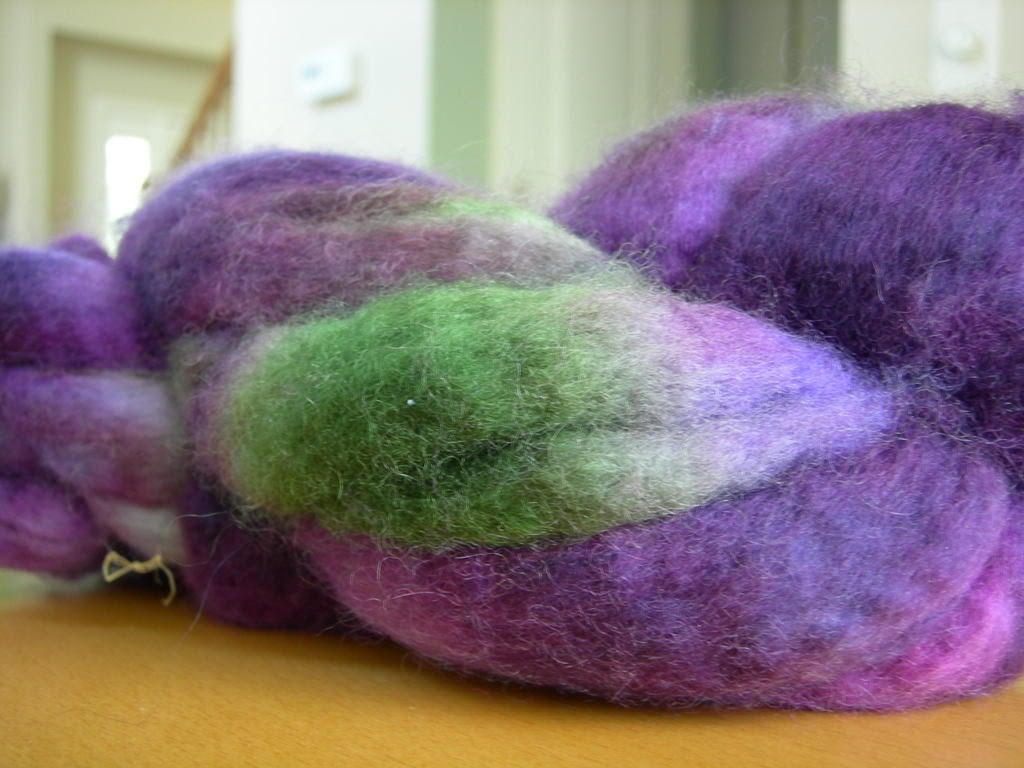 purchase was a Blue Face Leicester top at Miss Babs Hand-dyed Fiber Goods. She had all sorts of beautiful yarns, but when I saw this top, I knew it must be mine. It looks like an iris and is so soft!
The only other thing I got was a Wraps Per Inch gauge at the
Weaver's Loft
. If I'm going to be spinning all this stuff, I need to know a bit about the finished product, right?
I can't start spinning any of it until I finish up what is on the wheel... it could be a while.
In other news, did I mention the inkle loom my mom sent me? Well, I finally got it out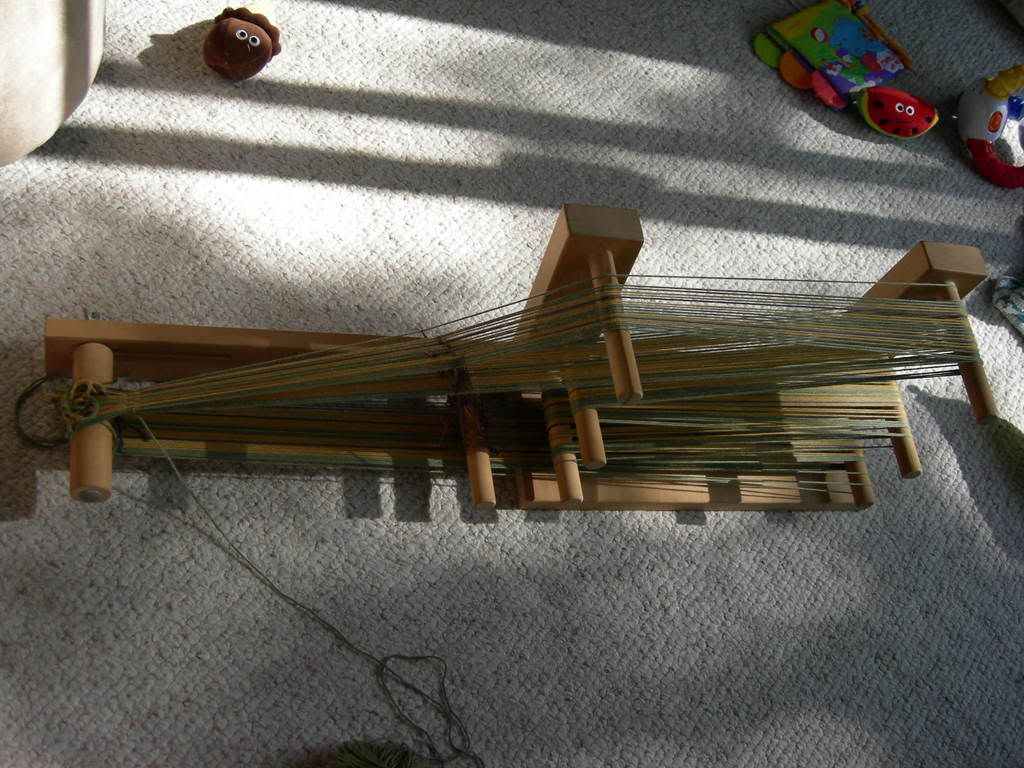 and got a book at the library,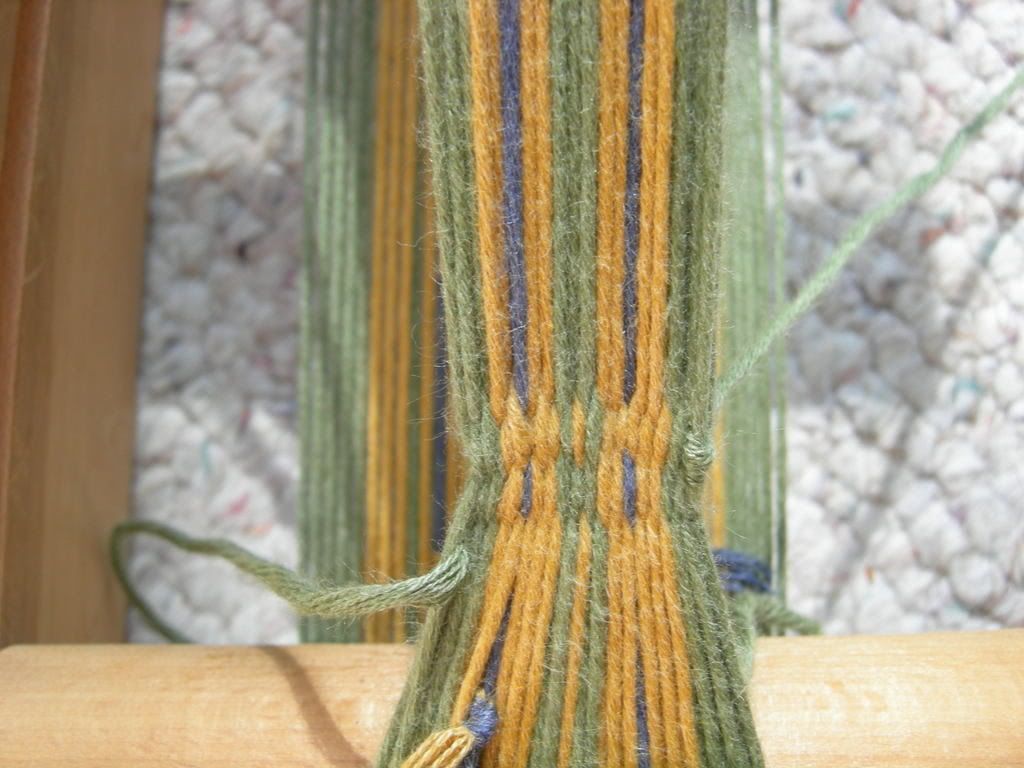 and last night, I warped it with EL Cotton Patine. I started weaving, but haven't gotten far and will take out what I've done and start over. I'm going to use my WPI gauge as a beater. I think I'll use it as a bag strap on an as yet to be made bag. It's fun stuff. I've wanted to do this for at least a decade.
Yesterday we had Jen and her great girls over for a tea party. I got out the teacups from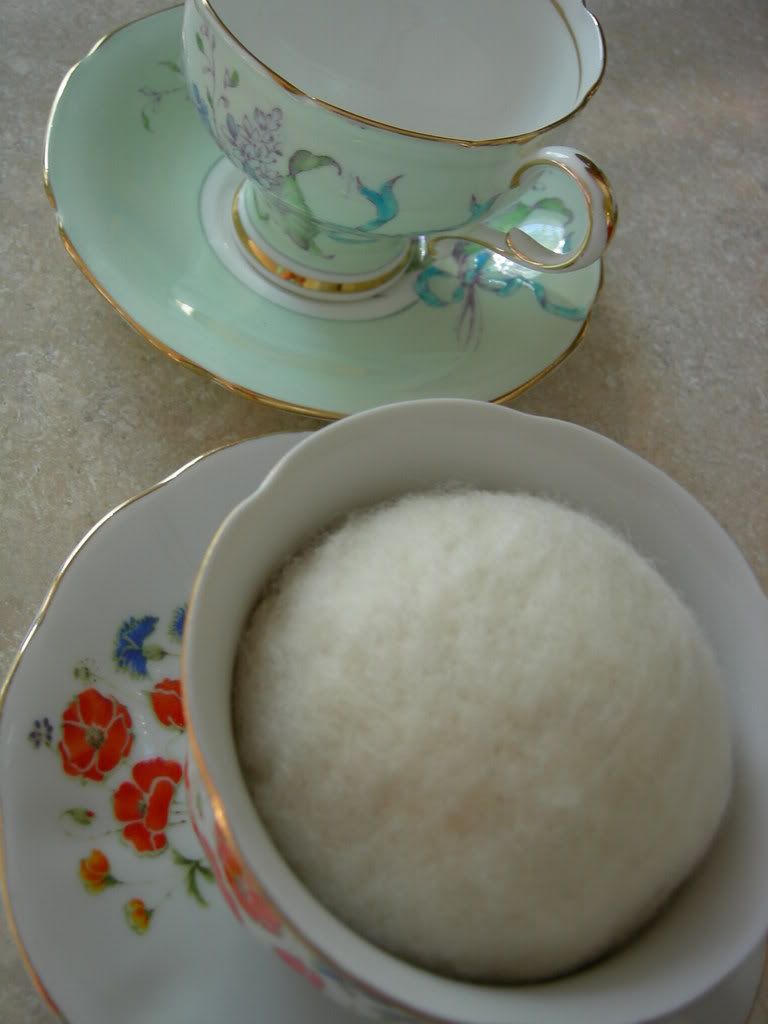 my grandmothers and baked scones and cookies. Um, diet? Where did you go? Come back now. Anyway, Jen helped me get started on the head of the doll for M. That's the head stuffing in one of the teacups. It's now at the required 10.5 inches, so, I guess another tea party is in order to work on the rest of the body! I'd better abstain from eating this time. Now, Jen has made many of these Waldorf-style dolls, so her wool heads are firm just with wrapping the wool around. Mine, not so much, so I used needle felting to help achieve proper firmness. You don't want the head to get squished... that's just disturbing.
I know, long post, and where's M?
Sleeping.