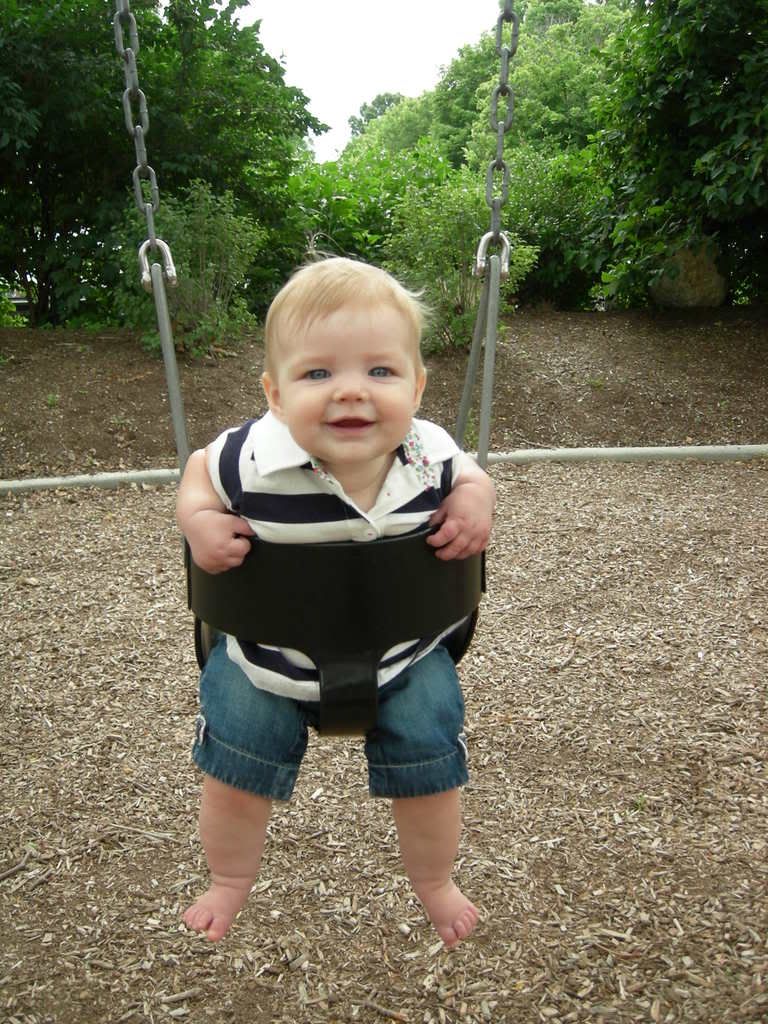 M. and I have been enjoying our outings with the Meetup group of moms we joined. Today we headed to a park in downtown Naperville. It was overcast and warm and humid, but M. had fun in the swings and we had a nice time. I'm just glad it was a morning thing, because now ... we've got major thunder and rain. We need the rain, though. It got a little dry last week, D. didn't even need to mow the lawn over the weekend. And my new bushes could use the help. I just wish rain would wash away mosquitoes.
I've been working on knitting. I didn't finish the front of the Na Craga for my dad, but I started the back, in the next size up. My gauge wasn't the same as called for in the pattern (and never would be with the yarn I'm using), and my dad wouldn't wear a sweater as baggy as the picture, so I chose the smallest size to start. However, after working on it, I think the next size up might be better, after all, he wouldn't wear a muscle sweater, either. But, before ripping the smaller front, we're trying out the next size with another piece. I like to think of it as working a really large gauge swatch.
Oh, and if you look at my buttons to the right, you will see that I joined the Ravelry Olympics for Team Rubbernecker. Awesome group of (mostly) ladies. My event is the WIP Wrestling in which I will be wrestling Na Craga into (with luck) submission.
Anyway, I don't have pictures of the Na Craga because there isn't anything really
picture-worthy going on. But, I do have pictures of some little
ducks/chicks
I've made for M. It's a cute pattern by MarjorieCrochets on
Craftster
. On the right is the first one I did, in a bulky leftover baby-melting acrylic. I did the beak as suggested, and it is more duck-like. I did french knots for the eyes because I didn't want to mess with even safety eyes for M. Also, I crocheted it so tightly that I wouldn't be able to fit the posts of the eyes in through the fabric. I stuffed it with plastic bags so it would make noise when she squished it ... it only makes a little itty-bitty bit of noise. The one on the left is made with various small amounts of yarn from a yarn tasting we did at
Dee's
last retreat. I modified the beak to be more chick-like, but kept the french knot eyes. There wasn't as much light when I took that picture, hence the "You caught me red-handed" look of the whole thing.
Oh, and I hope all my American readers had a really lovely Fourth (and I hope my international ones did, as well, even though you weren't celebrating). We had a great time with D.'s family. His brother came in from Seattle and we all watched M. crawl around. We all walked to the park in their neighborhood and watched her swing, which she loved. Best of all, none of the fireworks in our neighborhood woke her up! So I leave you with a picture of her enjoying the day in her patriotic (and it must be said), cute little dress. Too bad you can't see the little red and blue heart on it in this picture.