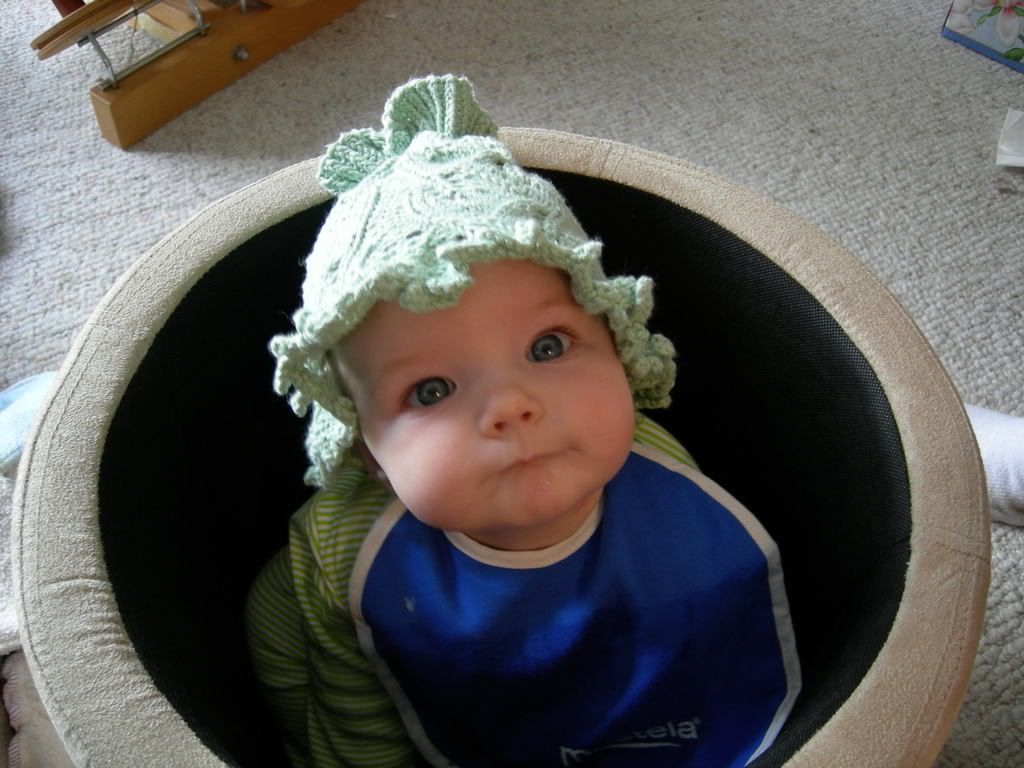 M happily posed in the storage footstool with her new hat. I think she looks like a little pixie, or flower fairy. The hat is the
Emli Bonnet by Alison Hansel
. It's a great little pattern. I used Sirdar Calypso, 100% cotton, so it will be nice for the summer. I used one ball and just the littlest bit of a second (had to add the second ball during the picot bind-off). As you can see, she is sucking in that bottom lip, still working on her first tooth.
Had a very nice Mother's Day weekend. I hope all the mothers out there did, too. Spun a little, knit a little and crocheted a bit. I finished up the
Baby Snow Dragon
on Monday. The
only modification I made was to add two more spikes because I sewed the tail a little lower down on the body, which made only three spikes look a little weak. Fun toy for M. I've started Baby's First DNA for her, too. I've found so many toys I want to make for her. She'll be drowning in wool toys.
Today M is 6 months old!?! In some ways I can't believe she is already that old, and in most other ways, I can't believe she hasn't always been here. She is sitting up so well and started rolling from her stomach onto her back.
We had a nice outing with her Grandma W today, the purpose of which was toys. We got some, and a couple other goodies, as well. M fell asleep right before we got ready to go home and didn't even wake up while I buckled her into her seat. Tomorrow we go back to
Wool and Co.
for Friday knitting. We were there while I nursed M today, and I scouted a new sweater for her. Something else from the
Sirdar booklet
.