I know I'm behind on posts, because after this one, I've got to post about Stitches Midwest. Also, I've been back from California for a week and a half.
We got out to my parents' on a Saturday, and the next Saturday, M. and I went with my mom on her usual trip to the Farmers' Market. We met up with friends my mom meets there most Saturdays and headed to La Bou for breakfast and chatting. When I mentioned yarn shops, one of them said to go to
Babetta's Yarn and Gifts
, that it was really nice. So, of course I had to go.
My mom and I went on a Monday afternoon and noticed a sign that announced that Babetta's coffee shop would be coming soon. A coffee shop in the same corner shops that had been there for many years had recently closed and she was getting the permitting required to help fill the void, not just for knitters, but everyone, which I thought was not only a good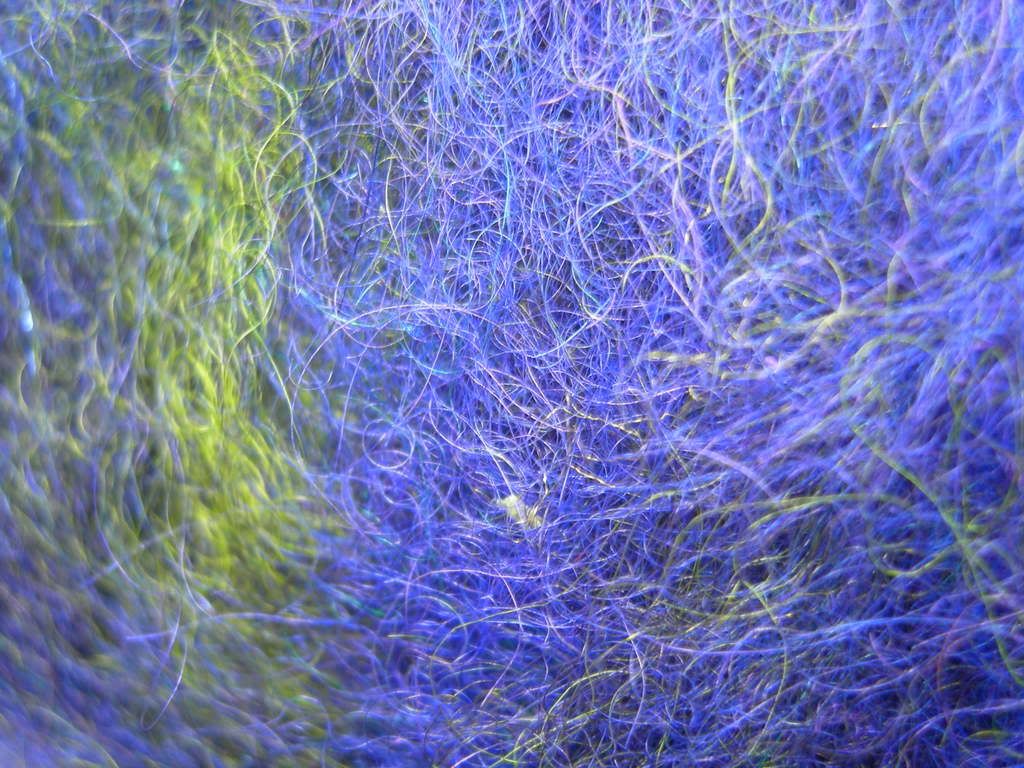 business idea, but very nice. Anyway, the store: SO MUCH YARN!!! Now, as I have mentioned, Wool and Company is my favorite LYS. They have a really large selection, which is only one of the reasons I like it so much. Babetta's has more. Lots. They have more room and just tons of yarn, and even fiber to make yarn. And books. And did I mention the yarn? Babetta herself is such a kind person, if I lived near there, it would be my LYS of choice. The only criticism I had,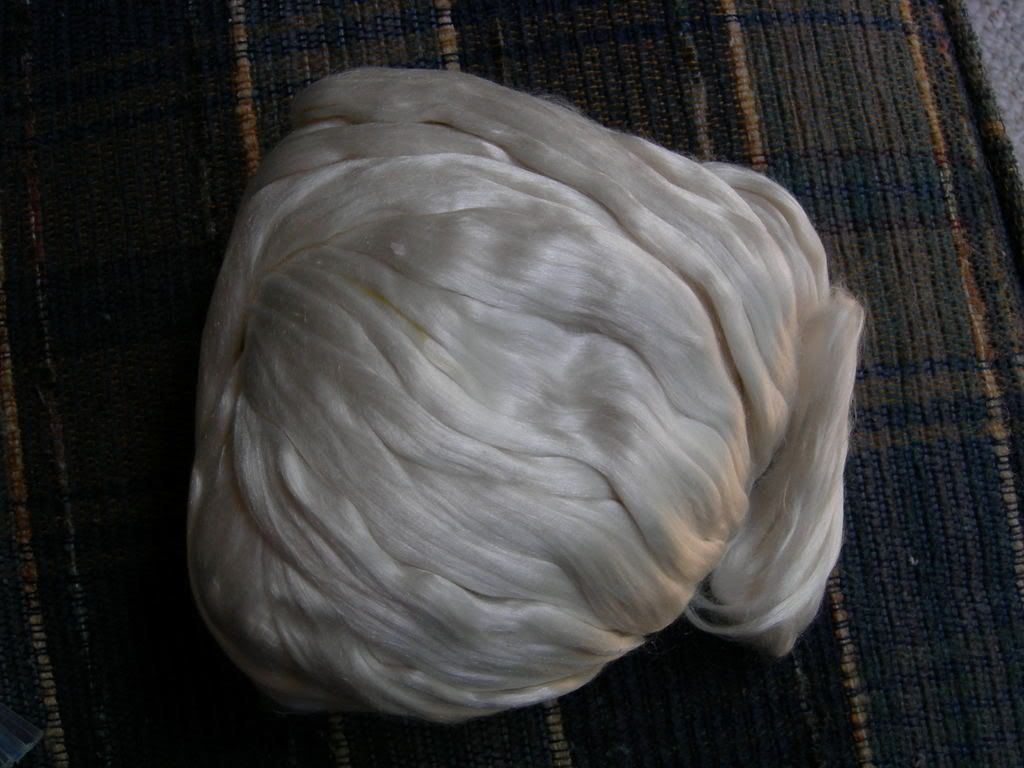 and it is minor, is that is was a bit disheveled; although I have to say, that considering she is trying to make room for a coffee shop, it wasn't bad. There is yarn everywhere, and a nice seating area for you to peruse the books or sit and knit. I only ended up getting a little fiber, though. I got this beautiful blue mix of wool, silk, alpaca, Angelina and who knows what else, hand carded by a woman in Nebraska (I couldn't get a picture that showed the depth of the color). But, it is not for me. I also got this cultivated silk... look at that sheen. So pretty.
That Wednesday we all took a trip up to Grass Valley.
Fibers
gave out a free bag pattern on Earth Day, and I wanted to see the shop it came from. It's in the downtown of Grass Valley, which is quite cute.
The shop itself isn't very big, but it has nice yarn and the woman helping me was really very sweet. She had a hard copy of the pattern and showed me what yarns would be good for it. It is actually three string bag patterns on one page, and the best thing (having been to the Farmers' Market in Naperville) is the bags have two handles. I got some
K1C2 2nd-Time Cotton
to make at least one of the bags. I have two beige skeins, so I might do a two color thing. I also got four skeins of
Frog Tre
e
sport weight alpaca
. Loved the color, thought M. needed some sort of sweater/dress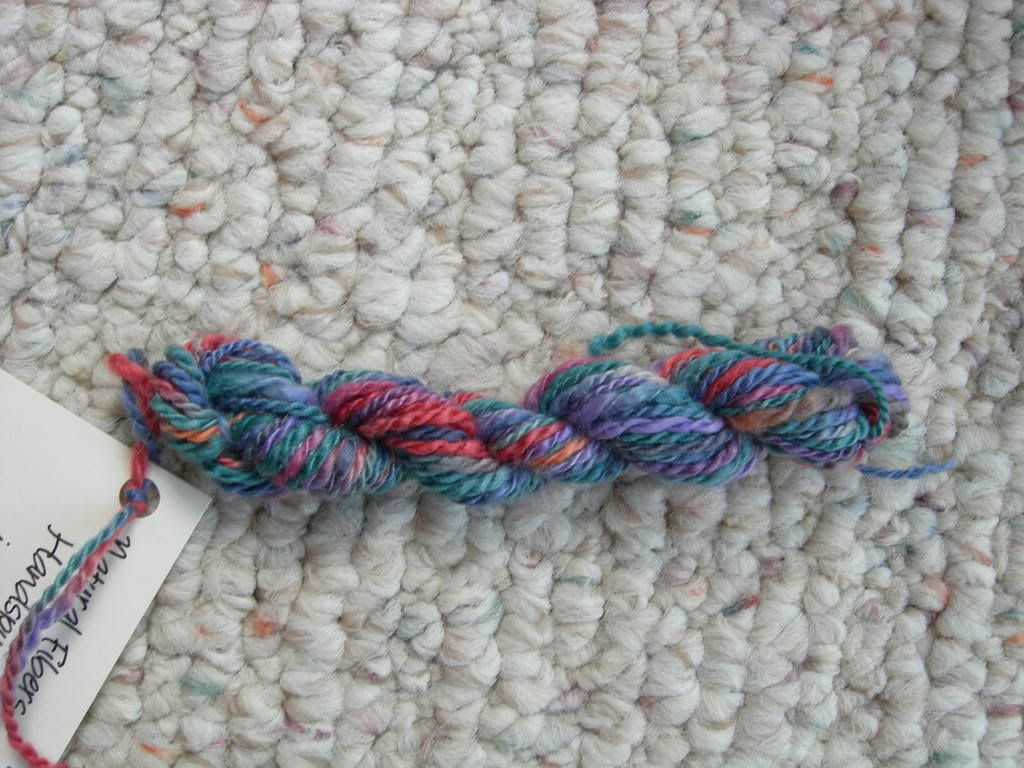 out of this yarn. The last purchase was a little itty-bitty hand-dyed, handspun souvenir skein as a goody for someone.
After Fibers, we went to
Fabrics on Mill Street
, which, in case you are there and do any sort of sewing, is a beautiful open bright shop with great customer service, lots of patterns, and a good selection of fabrics, including fashion fabrics.
Before we went home, we had lunch, but I can't remember the name of the restaurant. We ate outside on the patio, which was great, except for the flies. M. liked my french fries (and my dad's avacado and chicken), and even at the lemon we gave her.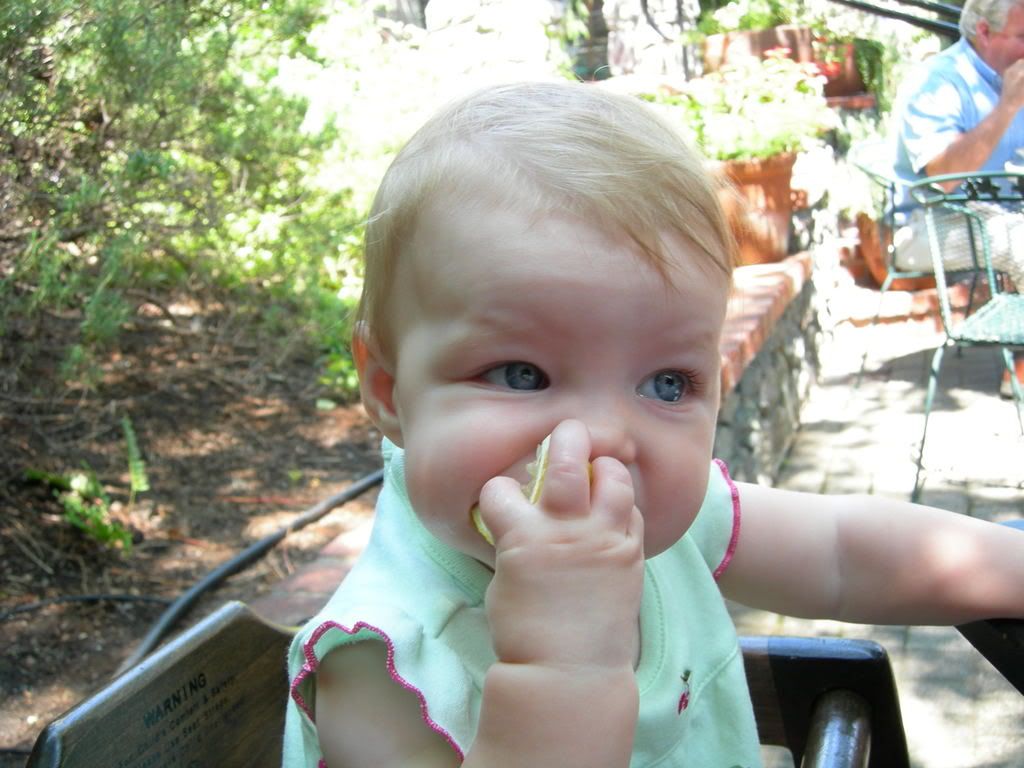 She did make the shivery-body-lemon-face, but continued eating it. Silly girl :)
Oh, and here is the family portrait of the animals that did not come to California with us, but did follow us home:
And I just realized that I still didn't tell you about my Olympic fail. Tomorrow. Really. Then Stitches.