I happened to get a very nice comment on my last post today.
Knifty Red
gave me an award:
Isn't that sweet? It really made my day so much better! So, here are the rules:
Post the award on your blog (done)
Add a link to the person who gave you the award (done, go check out her blog!)

Nominate 4 others and leave comments on their blogs so they can pass it on.
So, here are my nominations:
KnitterSue
is a prolific knitter Down Under with a couple of lovely children. Also a complete sweetheart.
Dyed in the Wool
is a knitter and designer who battles
M.E.
and still produces beautiful things and is fun to read!
djennerosity
is a knitter and spinner who I actually know in person and is a kick to hang out with (also fun are her adorable daughters). I love her posts.
Licensed2Knit
is a knitter and sewer and I love reading her posts because I don't get to see her as much as I used to.
Now, I know I promised you Stitches fun. Well, it's been a while, so here is a short summary:
Shirtless men handed out little samples of SWTC and temporary tattoos.
Wool and Co. had a lovely booth, and were nice enough to let me sit in the corner to nurse M.
Toni from The Fold was there with a lot of goodies.
I got a free skein of Malabrigo's new sock yarn that will be available in the US in October, just for the asking.
We had a very nice time. Going to yarn events with Jen is guaranteed to be fun.
Speaking of rain, however, it can stop any time it would like. We've had a really rainy weekend... 6" in the Chicagoland area, which is a record for one day.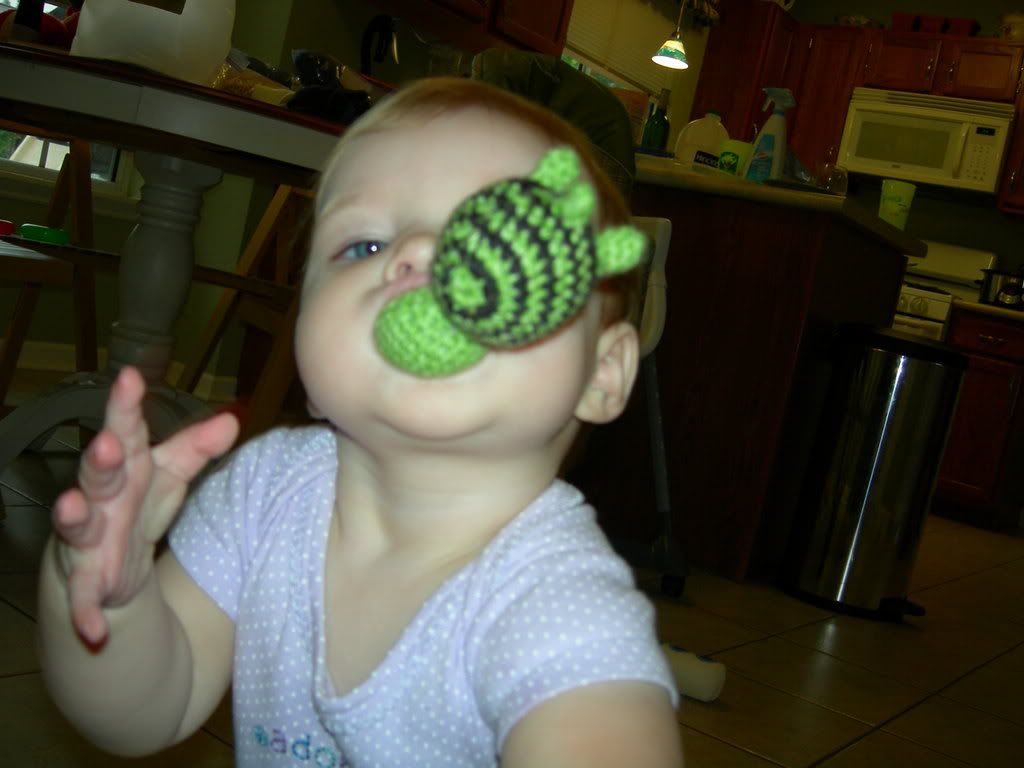 In M. news, she's practicing standing by standing up without support for a few And she's figured out how to get back down the steps into the family room on her own. And she's started pointing at the pictures of herself that come up on the screen saver. M. has also realized that if she holds something in her mouth, she can still bring it with her, but can crawl more easily than whenseconds at a time. it is in her hand... she looks a bit like Fido! She also loves to push the lid off the storage ottoman to rip out the diapers. As soon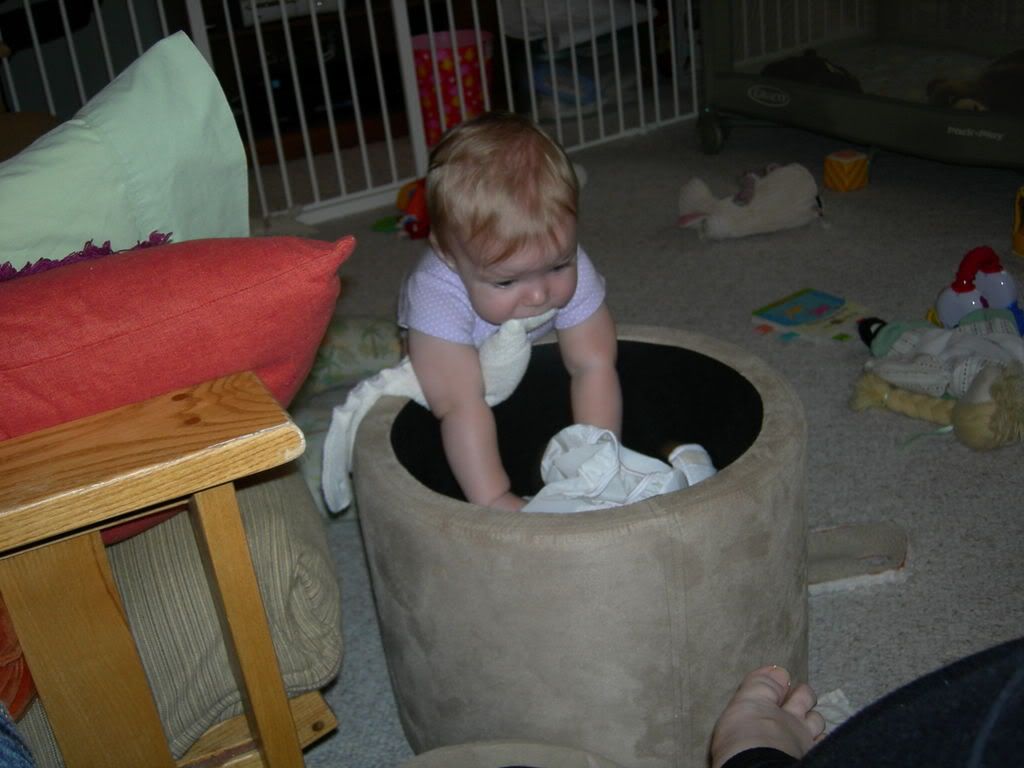 as I put them back in and put the lid on, she's back at them pulling them out and shaking them around!
We had a nice time at Wool and Co. this Friday. You can see her hanging out with the wonderfully funny Carol, who held her for a while so I could get some knitting in. She's been teething, but Jen and Nan were also able to calm her down.
Alrighty, that's all for now. Thanks for reading!